LPH Painting Co Pty Ltd is one of the largest and most sought after commercial and industrial painting companies in Adelaide and South Australia, whether the project is for new construction, redecorating or refurbishing.
Why choose LPH Painting:
We maintain a reputation for consistently producing high quality workmanship
LPH is regularly engaged as a contractor to the State's largest building companies, commercial and industrial clients
LPH Painting is the preferred contractor to many other organisations, including government departments
We are approved applicators of fire retardant paint systems, e.g, Promat WB3 Cafco and International Coatings intumescent paint systems
Our professional and client focussed approach is well known
With over 40 years in the industry, we have extensive and superior knowledge of painting services and products
We deliver projects in an efficient and timely manner
LPH Painting have recently completed a major commercial painting job in the city of Adelaide.
We surface coated the Adelaide Convention Centre on the banks of the River Torrens to enhance fire protection. A fire resistant spray was applied to structural steel columns in the parking area. The fire resistant spray was also applied to the primary and transfer beams in two levels of the building.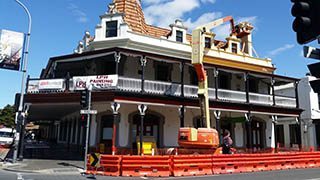 Call LPH Painting to discuss your next job's requirements on